CSGO gloves are cosmetic items within Counter-Strike Global Offensive that offer different and unique designs for the CSGO character's hands.
Just like weapons skins, gloves skins can make you look cooler when you're killing your enemy, especially when you're using CSGO knives to do so.
In this article, we're going to explore some of the best CSGO gloves currently presented on the market. We will also find out how to get more gloves skins for a cheaper price. So you won't pay a fortune for them.
How Do You Get Gloves in CS:GO?
There are three ways to get gloves in CS:GO:
You can buy a pair of gloves directly online on Steam Community Market or third-party marketplace

You can buy a case and hope to get rare gloves to drop

Play CSGO and hope for a case to drop and reward you with gloves
» Check the prices of CS:GO gloves right now on our CS:GO (CS2) trading bot!
Each of these methods has its own benefits and drawbacks. Below you will find the detailed explanation on how to become an owner of CSGO glove skins.
– Buying CS GO Gloves
Buying any gloves you want, such as some rare driver gloves or specialist gloves, gives you a 100% chance to get those gloves considering you have enough money to spend.
So, this is an easy way. But it can get expensive, especially if you want to receive some of the rare CSGO new gloves out there.
– Purchasing CSGO Glove Cases
The second option, buying a Glove Case and hoping for a rare drop is a bit less expensive but it also offers a lower chance of you getting any gloves.
Plus, you don't get to choose between specialist gloves, driver gloves, sport gloves, or any other type of gloves. You get what you get simply by random chance.
– Getting Gloves from Random Drops
Finally, the cheapest option of them all is also the one that gives you the lowest visible chance of getting great gloves in CSGO.
There are only a few cases that drop gloves in rotation currently. Even if you did get such a case drop, you still have to consider the low chance of it actually dropping some unique gloves such as the Vice Sport Gloves or the Hydra Gloves Case Hardened.
Best CSGO Gloves Skins
Before we dive in deeper, here's a quick glance at the five most popular gloves in CSGO.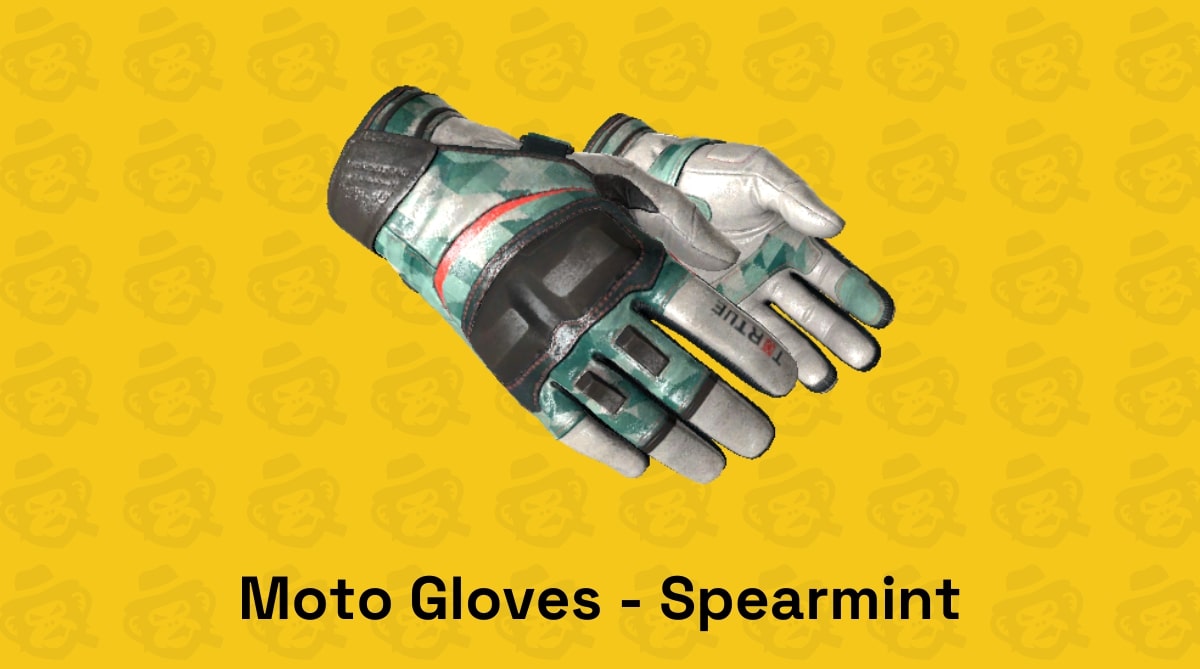 When it comes to Moto Gloves, the Spearmint Moto gloves are among the most expensive, reaching the highest price of over $19000.
You can also find these gloves in CSGO cases such as the Glove Case and the Operation Hydra case.
2. Hand Wraps – Cobalt Skulls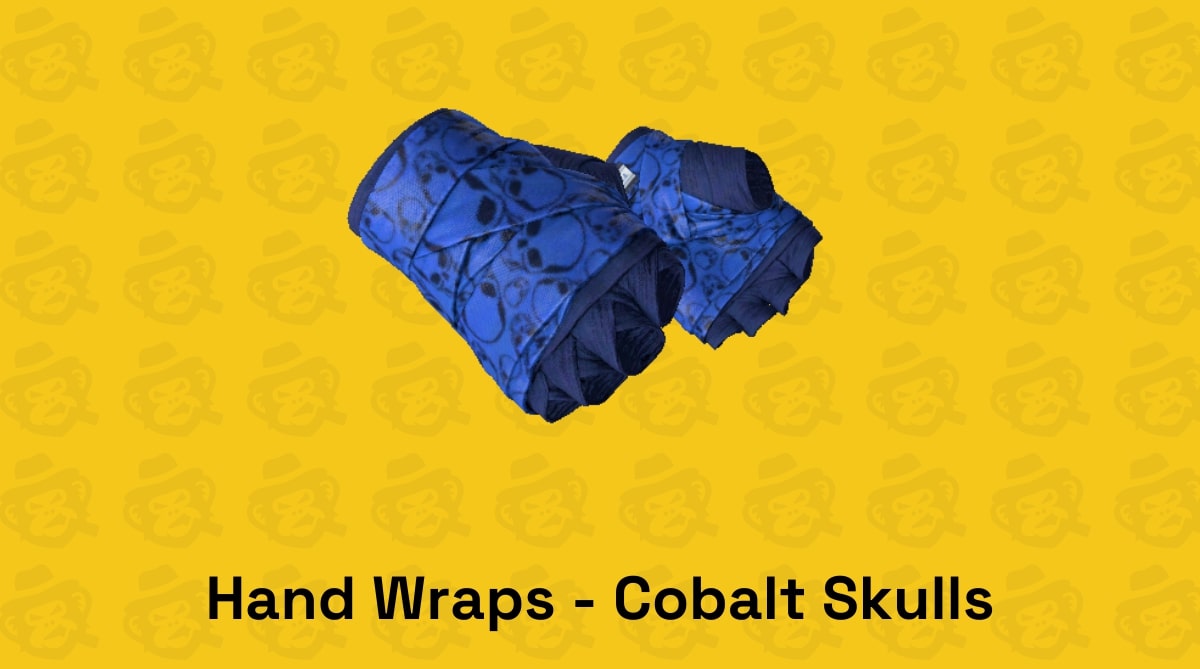 The Hand Wraps are a type of CSGO fingerless gloves that look absolutely stunning on your character's hands. They are covered in various shades of blue and feature a random pattern of skulls across their surface.
You can find the Hand Wraps Cobalt Skulls gloves in the Clutch case or purchase them directly at a current price anywhere between $400 and $3500.
3. Driver Gloves – Snow Leopard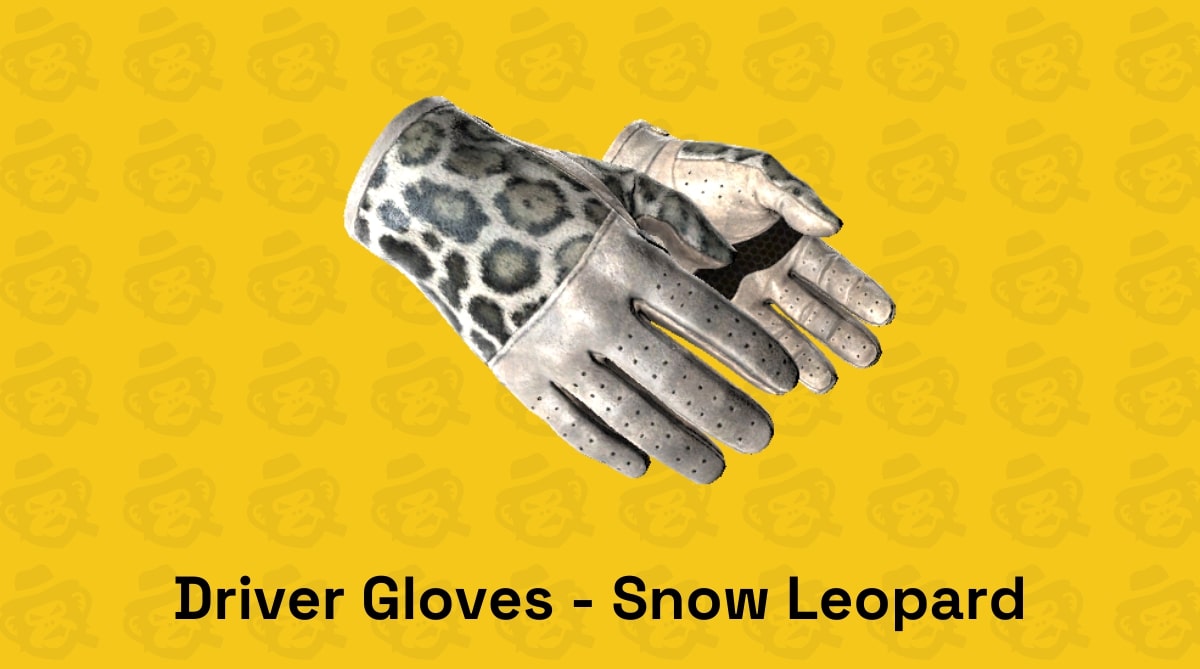 Even though getting Factory New Snow Leopard Driver Gloves is quite difficult, even if you did it would cost you no less than a couple of thousand dollars.
These gloves have been seen to reach prices as high as $12.000. That's a lot of cash for a pair of gloves, wouldn't you agree?
In addition, the Snow Leopard Driver Gloves have been known to pop up in the Snakebite Case and the Operation Broken Fang Case.
4. Specialist Gloves – Field Agent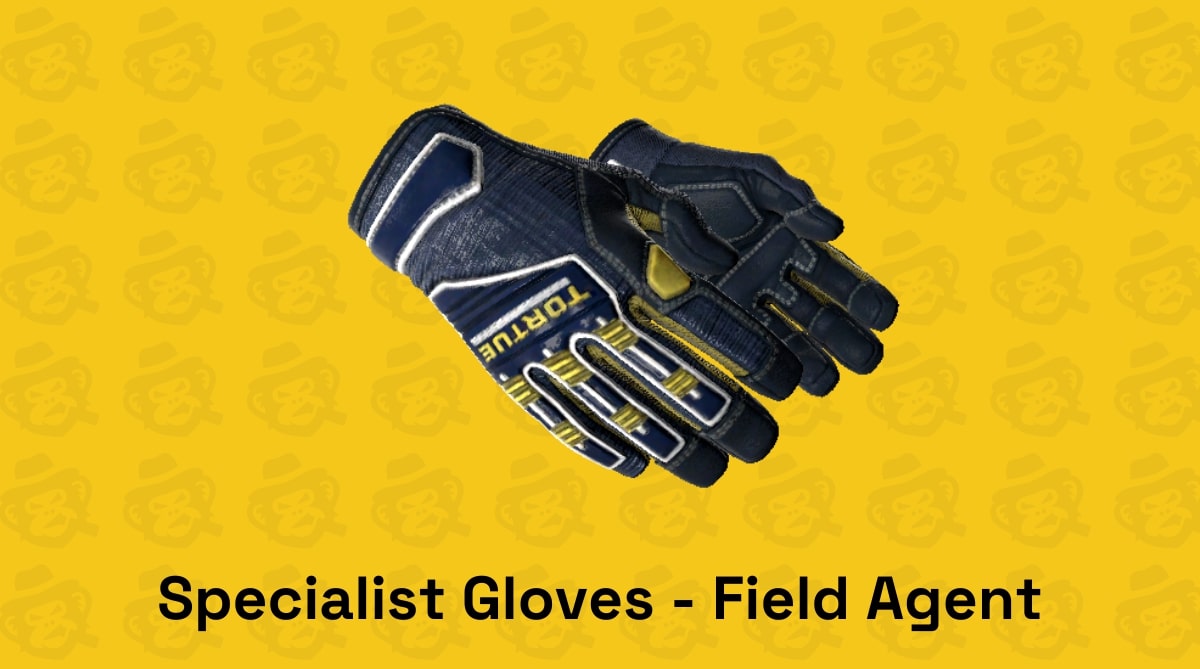 The Field Agent Specialist Gloves are a unique pair of gloves that also reach prices in the thousands. However, you can find cheaper ones that can cost as low as $200.
Like the previous example, the Snow Leopard Driver Gloves, you can find the Field Agent Specialist Gloves in the Snakebite and Operation Broken Fang CSGO cases.
5. Sport Gloves – Pandora's Box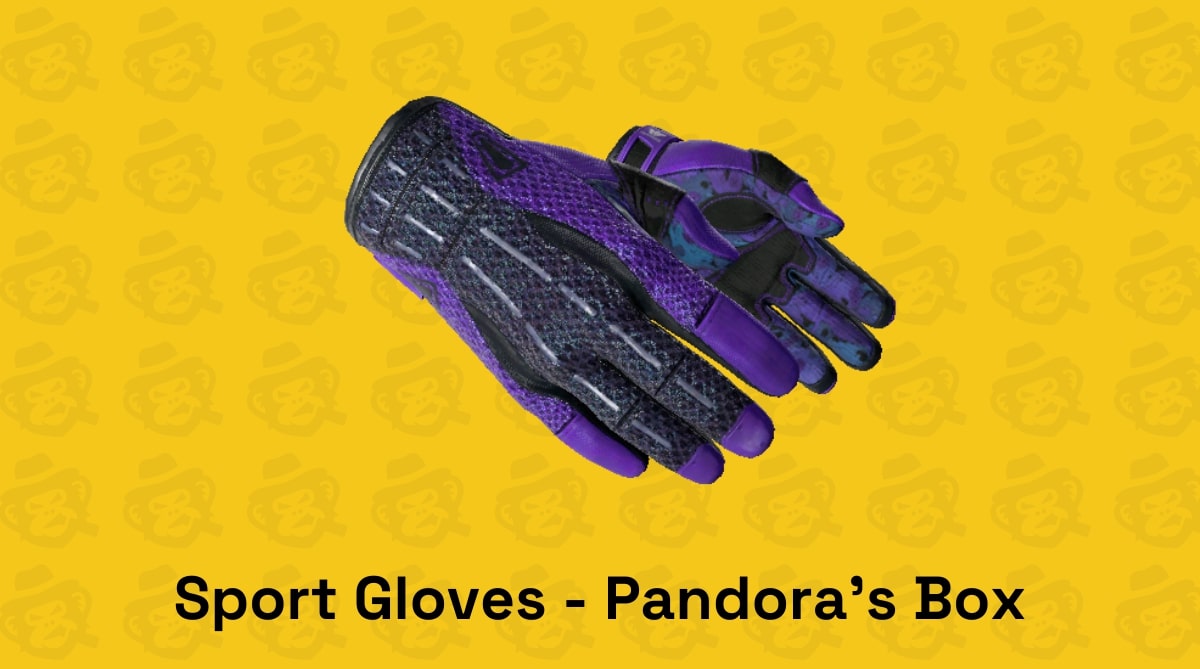 These Sport Gloves in CSGO are probably the most popular gloves ever released. They are also the most expensive.
The Pandora's Box Sport Gloves aren't any new CS GO gloves that just came around. They've been here for a while and have been sold for as much as $20.000. This is also a lot of money to have sitting in your Steam inventory.
6. Bloodhound Gloves – Snakebite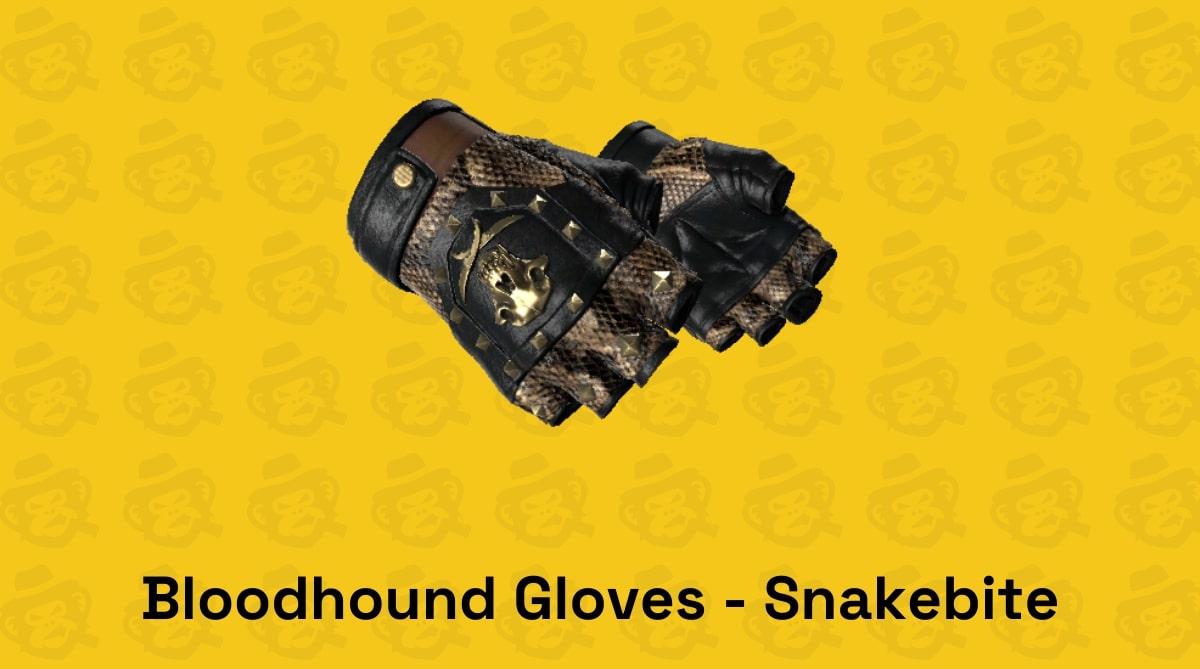 The bloodhound gloves are sort of similar to the hand wraps in CSGO but they look a bit more premium and luxurious. They are made from high-quality leather and snakeskin.
These Snakebite Bloodhound Gloves in particular are quite expensive and can cost as much as $1500. You can find them in the Glove Case and Operation Hydra Case.
7. Moto Gloves – Blood Pressure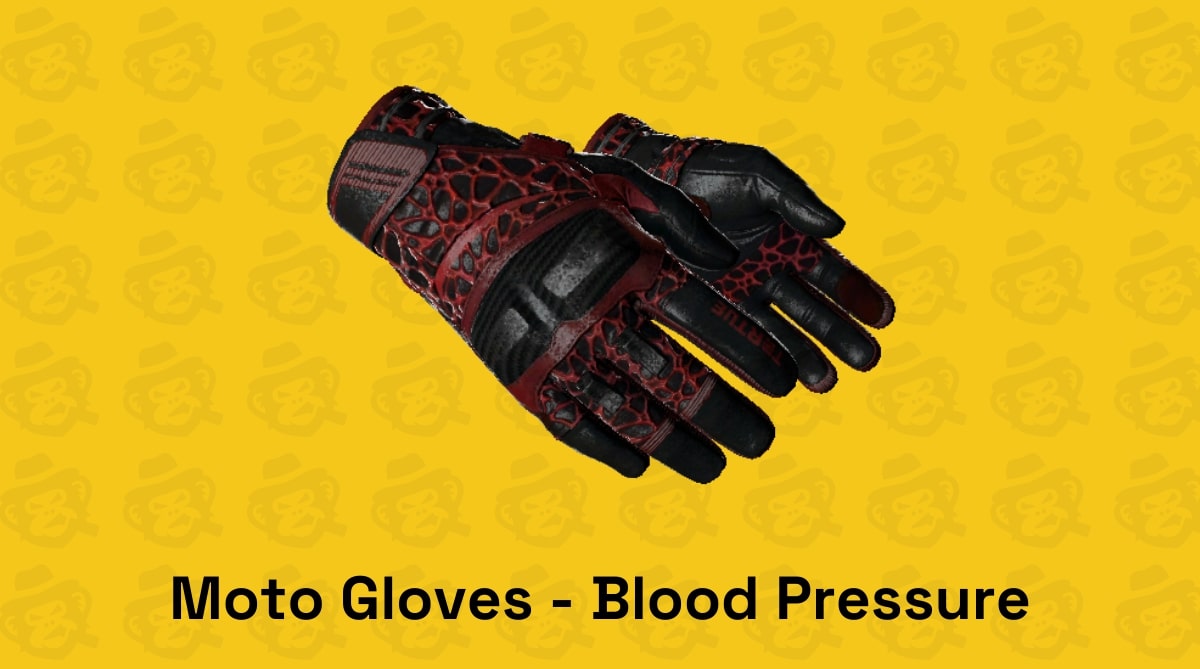 The Blood Pressure Moto Gloves are some of the best red gloves in CSGO you will ever find. Thanks to their blood-red colors and realistic design, they can cost up to $1000 easily.
If you want a pair of high-quality Moto gloves in CSGO, then these are some of the most popular ones.
Want to get your hands on some free skins? Check out the giveaways at SkinsMonkey, where you can get free CS:GO skins!
What CSGO Cases Have Gloves Inside Them?
There are five CSGO cases that contain gloves inside them as rare and special items. The probability of getting gloves from these cases is a bit over 0.25%.
» Are you curious what are the best CS:GO cases to open in 2022? Check it out now!
Aside from buying gloves online, you can also get them by opening the following cases that you've bought, won, or received in random drops.
Glove Case

Snakebite Case

Operation Broken Fang Case

Operation Hydra Case

Clutch Case
How to Sell Your CSGO Gloves?
You can sell your gloves from your Steam inventory by finding someone to purchase them directly on Steam or by listing them on third-party skin-selling websites like SkinCashier.
Using either one of these two websites means it's hard to get scammed considering you don't share any unnecessary information.
In addition, selling your CS:GO gloves is as easy as listing your gloves for sale, waiting for someone to purchase them, and then completing the transaction.
Finally, the buyer gets their new gloves and you get your earnings.
Summary
Hopefully, by now the topic of CS:GO gloves is a bit clearer for you. The gloves you've seen here are just a small portion of all the different ones that exist. The list of all CSGO gloves that have ever been created is much, much bigger than this one.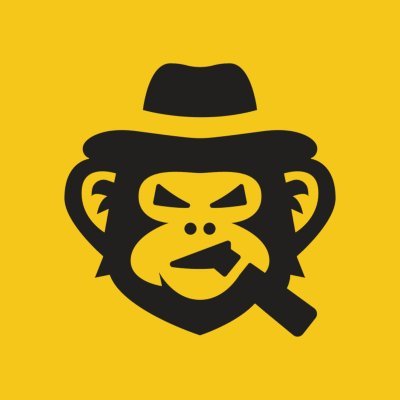 A true gaming enthusiast, especially Counter-Strike: Global Offensive and Rust. At SkinsMonkey, he is involved in creating game guides based on his own experience.