Rust is one of the most popular online multiplayer-only survival games. Similar to Minecraft, there are a lot of the exciting in-game skin sets in Rust. These sets can probably move your game experience to a whole new level.
Since there are many options of Rust armor skin sets in the Market, we have listed the TOP 5 armor sets in Rust. Keep reading this article to know their prices. And how to get the best Rust armor skin sets not to spend the fortune.
How To Get Skins In Rust?
But the Rust Armor skins on the third-party marketplace.
The easiest and effortless way to get skins in Rust is to use third-party websites. By using trusted and one-of-a-kind sites like Skinsmonkey, you can trade Rust skins cheaply and reliably.
Visit Rust Item Store and grab some cool skins.
Another method is to buy skins from inside Rust. This method is not preferred much because not every skin is available in the Rust Item Store and the variety is very small. If you still want to try it, first log into Rust and then purchase your skins from the Item Store in the main menu.
Go on Steam Community Market for fair skins trading.
This is another method of purchasing Rust items. Let's say you want to buy Rust cheap armor skin sets, and they are not available in the Rust Item Store. Then you can buy or trade the skins you want by entering Rust's Community Market on Steam. But remember, if you want to convert your skins and items into real money, this method will be useless. You have to use third party sites for this.
5 Best Rust Armor Skin Sets in 2022
Top Rust armor skin sets can make you feel stronger. Moreover, your motivation to overcome obstacles will increase either. Wear them as soon as possible if you do not want to die in the next game round!
Let's imagine that you take our argument into account. And now you have every intention of topping your inventory with a few colofour items. Then it is worth to remember one more advice. Always buy Rust skins that fit your taste. With this approach you will win. Of course, do not win literally! But for sure feel yourselves more confident and goal-oriented.
Thus, let's have a closer look at the most trendy Rust armor skin sets of this season.
Set 1: Rust Dragon Rage
If you are looking for a challenging and cool look in the game, the Dragon Rage set is for you! Dragon Rage set consists of:
Dragon Rage Chestplate – $3.16 – $3.19

Dragon Rage Facemask – $2.74 – $2.87

Dragon Rage Hoodie – $6.31 – $7.38

Dragon Rage Pants – $5.43 – $6.76
All four Rust items are black and have gold dragon design embellishments. In oriental cultures black represents darkness and power. In contrast, gold is associated with the sun or the highest stage in spiritual development. So the Dragon Rage set lets you capture a spooky and mysterious look.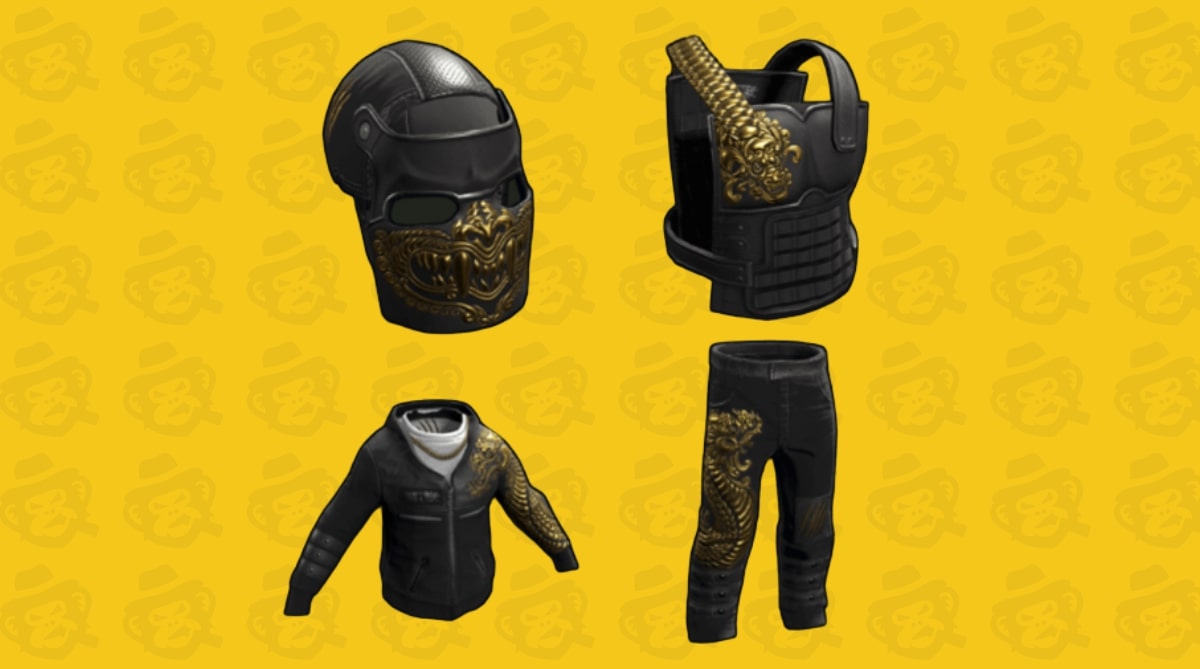 In the Far East the dragon has many positive meanings. It symbolizes nobility, good luck, and holiness. Maybe that's why the dragon embroideries in this Rust armor skin set. For a cooler and better look, buy Rust skins set – Dragon Rage for around $18 in total.
Set 2: Corrupted Armor
TO start with, the Corrupted Armor set includes:
Corrupted Bandana – $1.33 – $1.41

Corrupted Boots – $2.20 – $2.46

Corrupted Hoodie – $1.37 – $1.42

Corrupted Chestplate – $1.44 – $1.52

Corrupted Facemask – $1.86 – $2.00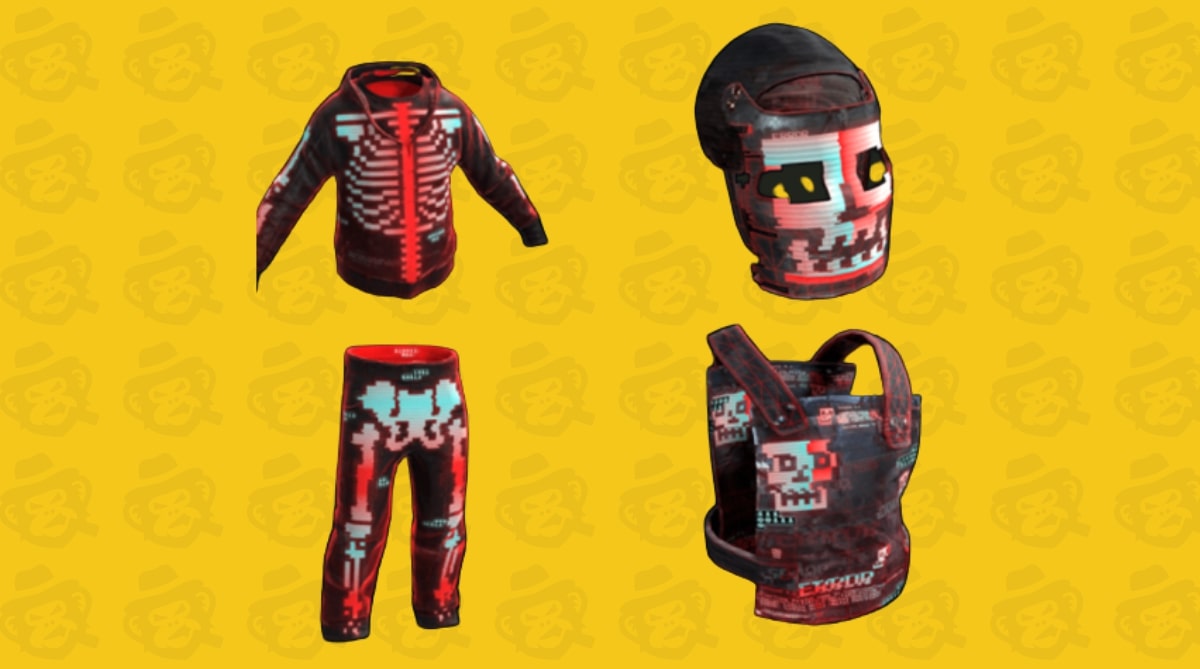 Its color is generally red and light blue with the skeleton drawing on the red fabric. When you examine it, you can see that it creates a distorted body image. The total price of this one of the best rust armor skin sets is up to $10. This fact makes it quite affordable for almost all Rust players.
Are you curious if free Rust skins exist? Visit our gamer's blog directly dedicated to all aspects related to Rust skins and many more.
Set 3: Knights Templar
Knights Templar Set is a design that captures the concept of temple costume very well in every aspect. The red and brown accents in stronger tones increase realism of the look and added elegance.
Knights Templar Helmet – $2.12 – $2.44

Knights Templar Hoodie – $1.35 – $1.41

Knights Templar Pants – $0.92 – $1.03

Knights Templar Vest – $3.07 – $3.35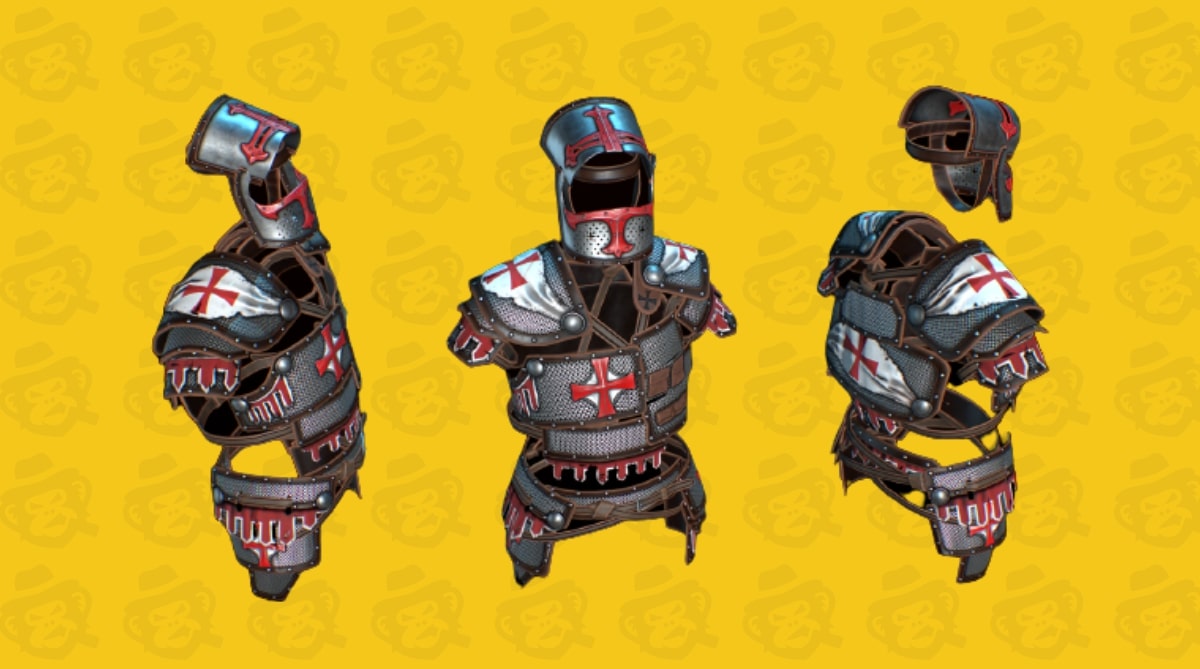 If you have to sum up the Knights Templar Set in a single line, It is a good choice for a stylish and powerful look. Finally, the price of all set Rust items is quite low – around $5.
To know more about how to buy Rust skins, check our detailed guideline dedicated to this topic.
Set 4: Cow Moo Flag
The Cow Moo Flage skin set is one of the cutest and most amusing! Cow Moo Flage Set includes:
Cow Moo Flage Boots – $4.10 – $4.30

Cow Moo Flage Chestplate – $2.18 – $2.61

Cow Moo Flage Facemask – $2.23 – $2.41

Cow Moo Flage Gloves – $4.05 – $4.23

Cow Moo Flage Hoodie – $11.56 – $13.57

Cow Moo Flage Pants – $14.31 – $15.25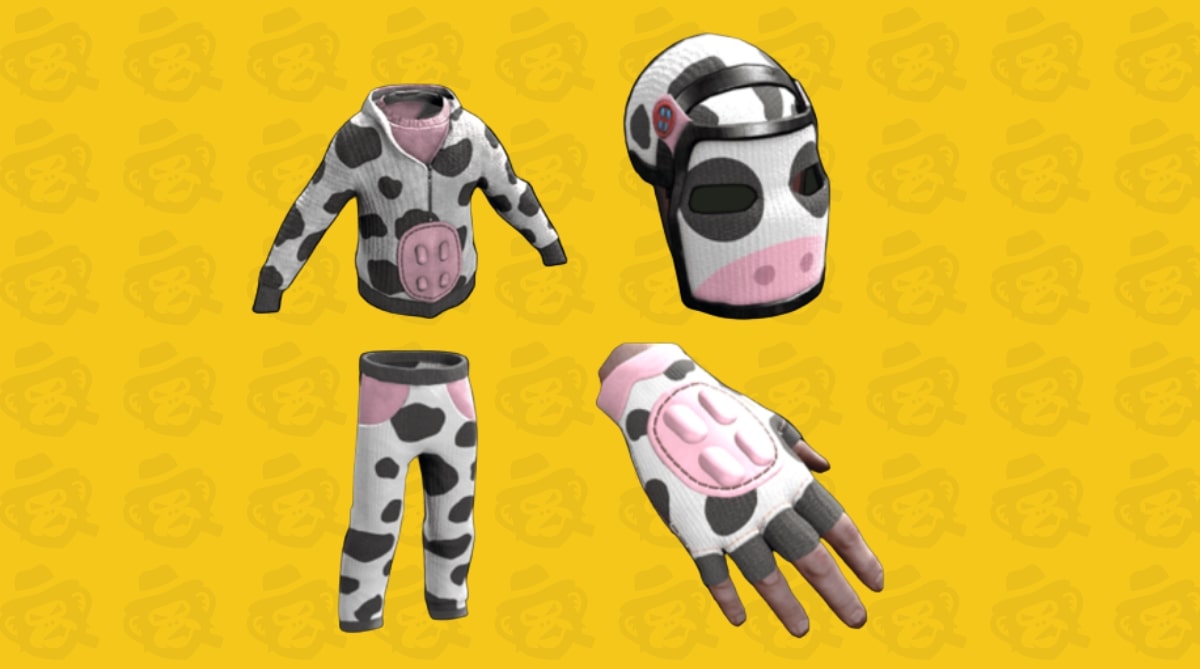 As the name says, this Rust skin set imitates a cow pattern. Such an effect is achieved thanks to the combination of black, white, and pink colors. You'll have a lot of fun when you own the complete set of Cow Moo Flage RUst Armor. Imagine you look like a cow while killing and looting your enemies! What is that funny feeling?
Set 5: Rainbow Pony
Colorful pony drawings or toys are lovely to everyone nowadays. Many players love this one of the Rust armor skin sets with colorful graphics of these cute animals. You can't expect to be strict with this look, but a cute-looking warrior is always unexpected for other players.
Rainbow Pony Bandana – $1.75 – $1.86

Rainbow Pony Chest Plate – $4.17 – $4.79

Rainbow Pony Helmet – $2.01 – $2.14

Rainbow Pony Hoodie – $2.94 – $3.23

Rainbow Pony Boots – $1.05 – $1.09o
Want more Rust armor skins? TOP 10 rust armor items are waiting for you!
This armor is set with a purple night and drawings of rainbows, clouds, and ponies. The pony detail, which we see less in body parts, is visible on the mask. You will look like a pink pony with colored hair when you wear this mask.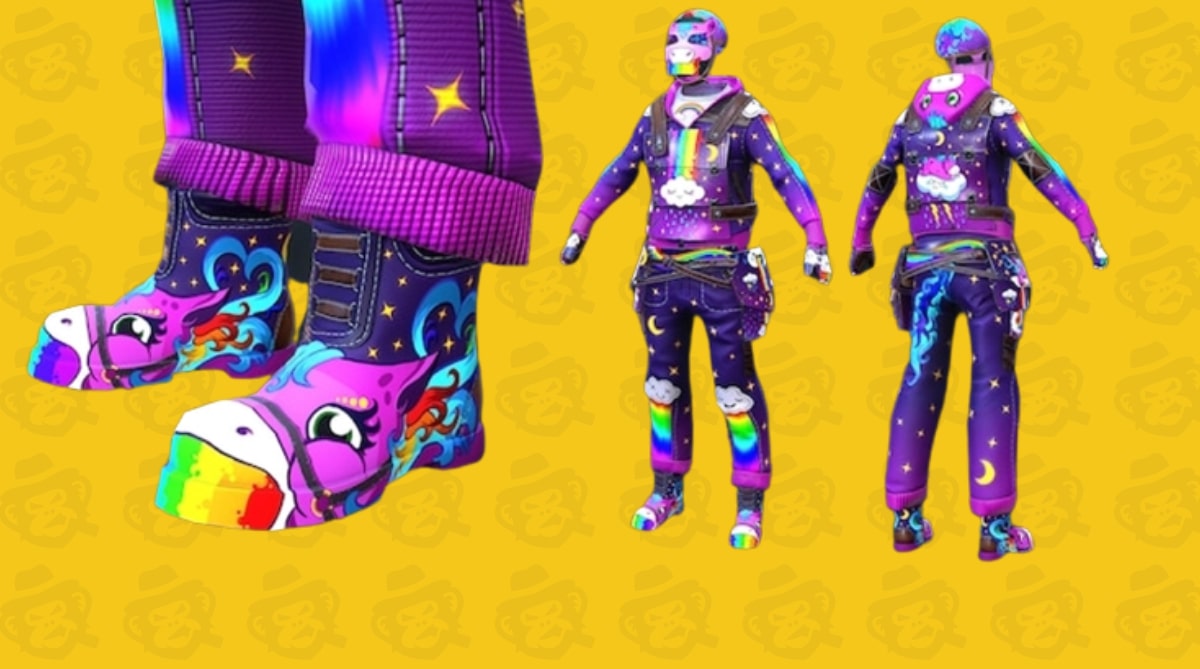 If you like ponies or colorful things, it will make you feel very pleasant to wander around the world of Rust with the Rainbow Pony Set. The good news is that it is also quite cheap. Do you want to ensure? Then visit our marketplace.
Conclusion
Thanks to the the best 5 rust armor skin sets you can feel camouflaged and self-confident in the game. No matter what is your choice – Rust camo skins or Rainbow Pony Set – you can rely on our recommendations.  Check this list of top rust armor skin sets to color your game and life. Thank you for your attention. See you next time!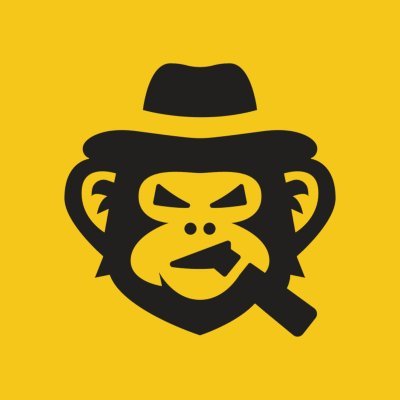 A true gaming enthusiast, especially Counter-Strike: Global Offensive and Rust. At SkinsMonkey, he is involved in creating game guides based on his own experience.